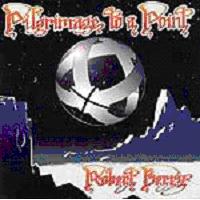 Album: Pilgrimage to a Point
Artist: Robert Berry
1995 Cyclops
CD: CYCL 019
Band members:
Robert Berry: vocals, guitars, bass, keyboards
Paul Keller: guitars
Mike Wible: keyboards
Preston Thrall: drums
Marcus Miller: bass

Producer: Robert Berry
Executive Producer: Ronnie Dexter

Tracks:
1. No One Else to Blame [S. Howe/Berry] (6:08)
2. You've Changed [Berry] (5:06)
3. Shelter [Berry, C. Palmer] (6:57)
4. Another Man [Berry] (3:50)
5. The Love We Share [S. Howe/Berry] (5:28)
6. The Blame [Berry] (9:21)
7. The Otherside [Berry] (5:36)
8. Freedom [Berry] (4:26)
9. Last Ride into the Sun [Berry/K. Emerson/C. Palmer] (10:15)
10. The Weapon (4:12)
"The Weapon" is a hidden track at track 13 on the CD (with tracks 10-12 just being silence). The name comes from Berry's management in a communication to a fan.

Notes: Originally released on Leonardo label in the USA and sold by mail in 1993. (Cristiano Massaro, 17 Apr 04)
The album includes material written for GTR, 3 and Emerson, Lake & Palmer. Robert Berry was in 3 with Keith Emerson and Carl Palmer. Their first album was To the Power of Three, but work on a second album was aborted and tracks 3 and 9 are left over from that association. After Steve Hackett left GTR, Steve Howe planned to continue the band under a new name: 'Nerotrend' and 'Nero and the Trends' were both considered. Berry was recruited to the band and a set of demos produced, some with Berry on lead vocals and some with Max Bacon. However, no release followed (although some material turned up on Max Bacon's The Higher You Climb.) Tracks 1 and 5 are left over from those sessions. It has been reported that these tracks are not simply re-recordings of material written with Emerson/Palmer and with Howe respectively but actually use some of the original recordings.
Mike Wible died in 2004. (HP, 18 Apr 04)
---
Return to Home Page